What's My Car Worth?

At AcceleRide®, we know how much you value the car, truck, or SUV currently sitting in your driveway. From cruising around town with the family to impromptu road trips with friends, there's no price you can put on the memories made inside your vehicle.
Of course, new chapters are written every day. If you're thinking about trading in your trusty ride for a newer model, you might be asking, "What's my car worth?" To find out the answer, let our trade-in experts show you the way.
Continue reading to see how AcceleRide® can help you confirm your vehicle's value in as little as 30 minutes!
How Do I Determine What My Car Is Worth?
Age, condition, and mileage are just a few factors we apply when determining your vehicle's fair-market value. To help make sure you secure the best deal, start by creating an AcceleRide® account.
Next, provide us with your vehicle's license plate number or VIN (vehicle identification number). This helps us quickly identify it in our nationwide database. Once we have our sights set on your vehicle, simply follow the three easy steps listed below.
Upload Your Photos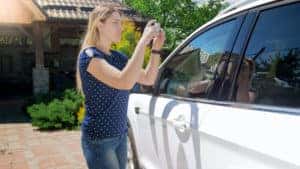 Using your smartphone, snap eight high-quality photos of your vehicle. This will help our trade-in experts formulate an initial appraisal. Areas you should focus on include:
Exterior front/rear
Tires
Interior front cabin/rear cabin
Steering wheel and dashboard
Tell Us About Your Vehicle
Does your vehicle come with an automatic transmission or a stick shift? Have you made any major alterations or upgrades to the engine? Does it include Bluetooth® or a tape deck?
Once you paint an accurate picture, click the "I'm Ready. Get My Offer" button at the bottom of the page. All in all, the entire process should take about five to seven minutes to complete!
Receive A Firm Offer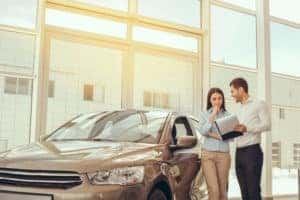 Once you submit your vehicle, our trade-in experts will immediately get down to work. They'll confirm all info before comparing your vehicle to what's currently in the local market.
In about 30 minutes, one of our experts will contact you. If you like what you hear, they'll help you schedule an official inspection at one of our local dealerships near you.
Do you want to think things over? No problem! With AcceleRide®, your offer is good for up to seven days or 250 additional miles.
Feel the need to shop around before committing? Go right ahead! Just keep in mind, AcceleRide® promises to beat any competitor's offer by up to $500. That way, you know you're sure to get the best deal.
How Do I Get Paid?
This is probably the second-most important question on your mind. Not to worry, AcceleRide® helps streamline the time between figuring out what your car is worth and receiving a check.
On the day of your vehicle's inspection, we'll introduce you to our team of finance specialists. While they guide you through the necessary paperwork, our appraisers will give your car, truck, or SUV an official once-over.
By the end, we'll present you with a check for the exact amount your vehicle is worth!
Start the Process Today! 
If you've recently wondered, "What's my car worth?", AcceleRide® is ready to provide the answer! To take the next step, create an online account and don't hesitate to contact us with your questions.