We Buy Cars

Do you have an extra car, truck, or SUV taking up room in your driveway? Here at AcceleRide®, we buy cars of every make and model. The best part? We guarantee to beat out any competition's offer by up to $500!
So, if you're thinking about selling your car, see how our innovative platform can shorten the time between posting online and walking away with a check in hand.
Are you ready to discover how? Let's go!
Buy. Sell. Be Happy.
Think about all the steps it takes to sell a car. From posting on multiple auction sites and negotiating with potential buyers to managing the paperwork, you're often looking at a process that can take weeks or even months.
With AcceleRide®, you can post your vehicle and receive a firm offer in minutes. All you need to do is follow these three easy steps.
Step 1: Tell Us About Your Car
Once you create an account, enter your car's VIN so we can confirm you're the legal owner. Next, we'll ask you to upload a few photos of your car to help our trade-in experts secure a fair offer.
Finally, answer a few questions about your car's standard features and current mileage before clicking the "I'm Ready. Get My Offer!" button.
Step 2: Chat With an Expert
Within 30 minutes, a trade-in expert will be in touch to discuss any extra details we might need before presenting you with a firm offer. This is also the perfect time to ask any questions about our convenient process.
If you like what you hear, our expert will schedule a final meeting at one of our local dealerships near you.
Step 3: Get Paid
While your car undergoes an official inspection, you'll meet with one of our financial specialists who'll help transfer over the title. By the end of the meeting, you'll have a certified check and one less vehicle in your driveway!
AcceleRide®: A New Way to Buy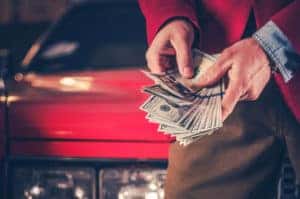 Not only do we buy cars, but we also sell them! So, if you're interested in rolling the value of your current car, truck, or SUV into your next vehicle, we can help.
Gain access to tens of thousands of new, used, and certified pre-owned vehicles without leaving home! From your smartphone, you can start the buying process online before finishing up the deal in person. We'll even factor the value of your trade-in for a seamless hand-off.
Be sure to take advantage of our handy financial resources, including our monthly payment calculator and "What's My Car Worth?" tool.
Do you want to skip the showroom? AcceleRide® makes it possible to build a payment plan and secure terms online. We can even arrange to have your new ride delivered directly to your home!
Sell Us Your Car Today!
At AcceleRide®, we're all about making the buying process quick and convenient. If we've piqued your interest, the next step is to post your car, truck, or SUV. Please don't hesitate to contact us with any questions.