Sell a Car Online Midland TX


Convenient, secure, and all at your own pace, AcceleRide® is the new way to sell a car online near Midland, TX. Thanks to our state-of-the-art platform, you can fast track the time between posting your used car online and receiving a certified check.
To discover more, check out our brief overview before creating an account today!
Why Use AcceleRide® to Sell a Car Online near Midland?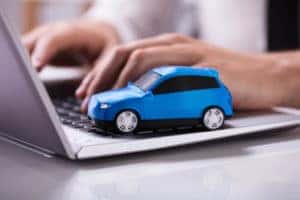 In the old days, selling your car often meant posting to multiple auction sites, haggling with interested buyers, and poring over heaps of paperwork. Now, you can receive a firm offer within 30 minutes!
That's because, unlike other auto sites, AcceleRide® is the buyer. Plus, as a leader in the industry, we promise to outbid any competitor's offer by up to $500. Do you still want to shop around? No problem! Your offer is good for up to seven days or 250 additional miles.
How Do You Sell A Car Online Through AcceleRide®?
To take the first step, we encourage you to create a secure account through our website. Next, click the "Sell A Ride" button on our home page. Enter your Vehicle Identification Number (VIN) or the license plate number so we can quickly identify your used car, truck, or SUV.
Next, it's showtime! Using your smartphone or digital camera, snap eight to 10 photos of your vehicle before uploading them to your application. This helps our trade-in experts accurately assess your vehicle to come up with a fair market quote.
Finally, take a few minutes to describe your vehicle to us. Tell us the current odometer reading, any modifications, and any significant signs of damage. Once you reach the end of our quick survey, select "I'm Ready. Get My Offer."
Okay, My Application Is Submitted. Now What?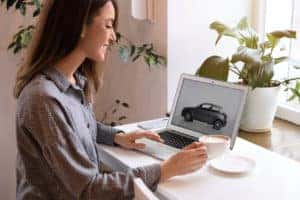 Within 30 minutes, one of our friendly and experienced trade-in experts will contact you. They'll confirm your information before presenting you with a firm offer. If you like what you hear, they'll help you schedule an official inspection at one of our local dealerships near Midland, TX.
On the day of your inspection, our in-house appraisers will give your used car, truck, or SUV one final look before handing it off to the team in our service center. In the meantime, we'll introduce you to a member of our finance team, who'll transfer over the title before handing you a check.
In no time, you'll walk out the door with money in your pocket and one less vehicle on your hands!
Sell a Car Online Midland TX
Here at AcceleRide®, our motto is "Buy. Sell. Be Happy." That means we'll go the extra mile so you can secure a deal with complete confidence.
Do you have a car to sell online near Midland? If so, then take a moment to create an account, and please don't hesitate to contact us with any questions!
We look forward to serving you!