Lease vs Finance

The search for a new car, truck, or SUV is an exciting and fun-filled process—one that requires drivers to answer several important questions along the way. One of the biggest things you'll need to decide is whether to lease vs. finance your next ride.
Here at AcceleRide®, it's our mission to make your journey as smooth as possible. That's why we've created this special guide that lays out the benefits and differences between both options.
Continue reading to discover more and please don't hesitate to contact us with any questions!
Lease vs. Finance: What Are the Benefits?
A car is more than a financial decision, it's also a lifestyle choice. Whether you prefer to keep your car until the wheels fall off or upgrade every few years will influence the type of deal you make.
In many ways, leasing a car is like a leasing a house or an apartment. The dealership assumes the role of landlord, allowing you, the driver, to use the vehicle for a specified period of time.
Leasing is perfect for drivers who enjoy staying up to date on the latest innovations or who simply don't like the idea of having a long-term contract. Since a typical lease lasts 24 to 48 months, you can enjoy driving a brand-new car on a consistent basis.
Furthermore, since lessees are only required to cover the cost of depreciation, a lease can sometimes cost less per month than a traditional loan. Finally, most lease deals come with full warranty coverage, so you can hit the road each day with complete peace of mind.
Why Finance a Car?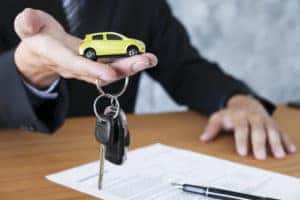 Beyond pride of ownership, choosing to go the finance route can lead to several perks. First and foremost, an auto loan comes with very few limits compared to a lease. As the owner, you aren't restricted to things like mileage limits or worrying about minor scrapes or wear.
Drivers who finance also have the freedom to customize their vehicles without penalty. Tired of the paint job? Want to add a new stereo system? You can personalize your vehicle to your liking.
Finally, once your auto loan is paid off, your vehicle is 100% yours to keep, trade, or sell!
Easy Financing and Leasing Offers
No matter which route you're leaning toward, AcceleRide® is ready to show you the way. To help make the process simple, we invite you to speak to one of our experts online or over the phone.
Out team can lay out several options that fit your individual needs and budget. To take the first step, we encourage interested drivers to complete a simple and secure form.
Find Your Next Car With AcceleRide®
We hope you've found our short lease vs. finance guide to be a helpful tool in your search for a new car. If you're eager to learn more, contact AcceleRide® or start shopping online today!