How to Sell a Car Online With AcceleRide®

Are you looking for an easier way to sell a car online? If so, you'll want to get to know AcceleRide®! Our state-of-the-art platform puts you in touch with dealerships looking to purchase your vehicle! To see how it easy it is to sell your vehicle online, continue reading our brief guide before getting started today!
Sell Your Car Online in 3 Easy Steps
The days of posting to multiple sites, answering requests, and scheduling showings is over. Now, you can sell your car, truck, or SUV at your own pace! Thanks to our mobile-friendly site, you can finish up the deal on your time. Here's how it works.
Step 1: Provide Info About Your Car
Through our secure site, fill out a simple application. You'll need to provide your VIN (vehicle identification number), license plate number, and photos of your vehicle.
Next, we'll ask you a few questions about your vehicle, including its mileage, standard features, and a few other details. Once you reach the end of the application, click, "I'm ready to get my offer!"
Step 2: Get an Official Offer From Our Trade-In Experts
Once you've submitted the necessary information, we'll instantly process your application and get back to you with a competitive quote. During that time, you can connect with one of our experts who'll patiently answer all your questions.
The best part? AcceleRide® guarantees to beat any competitor's offer, up to $500. So, you can rest easy, knowing you're getting the best deal for your vehicle. Take the deal on the spot or wait a few days before taking the next step.
Step 3: Get Paid. Be Happy.
Our trade-in experts will schedule a time for you to drop off your car, truck, or SUV at one of our local dealerships. That's when we'll put it through an official inspection and confirm the payment.
By the end, you'll be able to walk away with a check in hand and extra time on your calendar!
Why Choose AcceleRide®?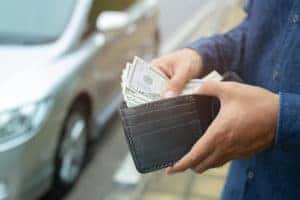 Whether you're looking to sell your vehicle or trade it in for a new model, AcceleRide® puts you fully in control of the experience. Not only can you sell your vehicle from anywhere, but you'll also have the ability to choose from thousands of new, used, and certified pre-owned vehicles from our network of dealerships.
Apply the value of your current vehicle to your next ride or take the cash—it's all up to you! Finally, decide whether you want to pick up your new vehicle or have it delivered to your home.
Sell a Car Online with AcceleRide®
We hope you'll consider using AcceleRide® the next time you're looking to sell your car.
To get started, download our app or submit an online application today!