How Does a Car Trade-in Work?

In today's world, trading in your used car, truck, or SUV is easier than ever before. With AcceleRide®, all you need is an up-to-date registration and an internet connection!
Thanks to our innovative platform, you can receive a firm offer within 30 minutes. We can even help you locate and purchase your next ride all from the same site. To discover how, check out this brief guide before submitting your trade-in today!
How Does a Trade-in Work?
With AcceleRide®, putting the value of your current vehicle toward your next one couldn't be easier:
Step 1: Submit Your Info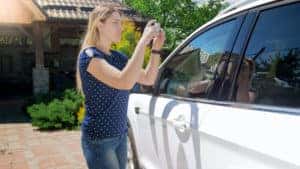 Create an account before providing your vehicle's license plate number or VIN. Doing so helps us identify your car, truck, or SUV and certify you're the legal owner.
Next, show us what you got! Snap six to eight hi-res photos and then upload them to our site. The areas of the vehicle you'll need to photograph include the exterior, tire condition, the steering wheel/dashboard, and the cabin area.
Finally, we'll ask you a series of questions so we can make an accurate appraisal. Questions include:
Standard features
Modifications or damage
Outstanding loan or lease info
Step 2: Speak To a Trade-in Expert
Within 30 minutes of submitting your trade information, you'll receive a call or email from one of our friendly experts. We'll confirm a few details before presenting you a fair-market quote.
If you like what you hear, our expert will then help schedule an in-person inspection at one of our local dealerships near you!
Step 3: Shop for a New Ride!
With a firm offer locked in, it's time to go shopping! Use AcceleRide® to find the perfect make, model, and trim! Our platform provides access to literally thousands of new, used, and certified pre-owned vehicles.
Find something you love? Click "Build My Payment" where you can add your trade-in value to the equation. Then, you can decide whether to complete the deal online or finish things up at a dealership near you.
Why Trade in Your Car Using AcceleRide®?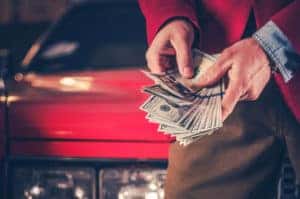 AcceleRide® is accurate and easy to use, plus our experts work tirelessly to provide the best quote on your trade-in. In fact, we promise to beat any competitor's offer by up to $500! That way, you're guaranteed to secure the best deal on your trade.
Do you still want to shop around? No problem! Your offer stays valid for seven days or 250 additional miles. Once you're ready to take the next step, simply contact our trade-in experts who'll help finalize the deal.
Can I Just Sell My Car, Truck, or SUV?
Absolutely! Not only can AcceleRide® free up space in your driveway, but we're also ready to help deposit money into your bank account, too! Simply complete the first two steps before letting our experts know you're interested in receiving a check.
Let's Make a Trade!  
Buy. Sell. Be Happy. That's the AcceleRide® guarantee. To take the next step, create an account before submitting information about your vehicle. If you have any additional questions, please don't hesitate to contact us today!