Back in the old days, buying a new car meant having to scour multiple dealerships, fill out piles of paperwork, and haggle over your trade. Now, with AcceleRide®, you can search for, finance, and even schedule delivery without leaving home.
Do you want to cruise the Verrazano Bridge inside a new luxury sedan? Perhaps you want a spacious SUV for family trips down the Jersey Shore? With thousands of options at your fingertips, we make it easy to buy a car online near Staten Island, New York.
Read on to discover how our unique approach creates more smiles for miles. To start right away, download our mobile app and start shopping!
How Does AcceleRide® Make Buying a Car Online Easy?
Day-to-day life around Staten Island is filled with work, family, and friends. You're always on the go. So, when it's time to pick out a new ride, shouldn't you do so at your own pace?
Use your smartphone or laptop to review thousands of top-quality vehicles. You also have the ability to schedule a test drive or finish the process 100 percent online. If you have questions, our experts are available to chat online or over the phone.
To illustrate how easy AcceleRide® makes the car-buying process, let's break things down into three simple steps. . .
Step 1: Find Your Vehicle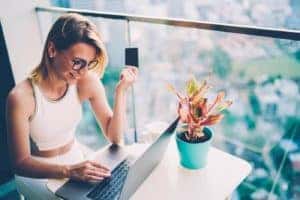 Browse our online gallery of new, used, and certified pre-owned models. You can quickly filter your options based on year, price, standard features, and more!
One of the beauties of using AcceleRide® is your ability to compare vehicles from nearly every major automotive brand. From a relaxing spot on your couch, you can virtually tour dozens of dealerships around Staten Island and throughout the surrounding region.
Step 2: Customize Your Payment Plan
For a fast and secure process, click the Build My Payment button where you can complete a financial application. Once it's submitted, AcceleRide® will secure several options based on your lifestyle and budget. If you need further assistance, one of our experienced financing specialists can answer your questions so you can e-sign with confidence.
Do you want to make a trade? Fantastic! AcceleRide® can provide a firm offer within minutes. All you need is the VIN (vehicle identification number), proof of ownership, and a few recent photos of your current vehicle.
In 30 minutes or less, one of our trade-in experts will be in touch to confirm your info before scheduling an in-person appraisal at one of our Staten Island dealerships.
Step 3: Schedule Delivery
The final step is to decide how you want to receive your vehicle. You have the choice either to pick it up in person or our team can schedule delivery to your driveway. Imagine, waking up one morning to your dream ride waiting for you outside. With AcceleRide®, that dream can be a reality.
Buy a Car Online Staten Island NY
Buy. Sell. Be happy. At AcceleRide®, our goal is to help you find your perfect car on your own terms.
Follow the link to start browsing our vast inventory of new, used, and certified pre-owned models today. If you need help, please don't hesitate to contact us right away.